Hire our Facilities
Sports Hall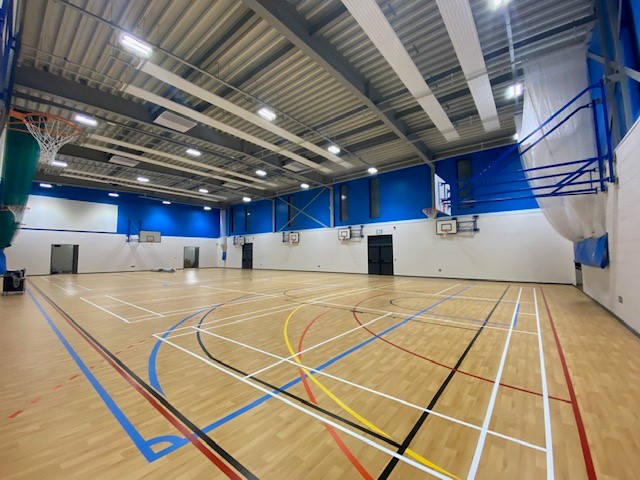 Our sports Hall is available for hire from January 2022, we are now taking bookings.
To book please contact roisinogara@bthcc.org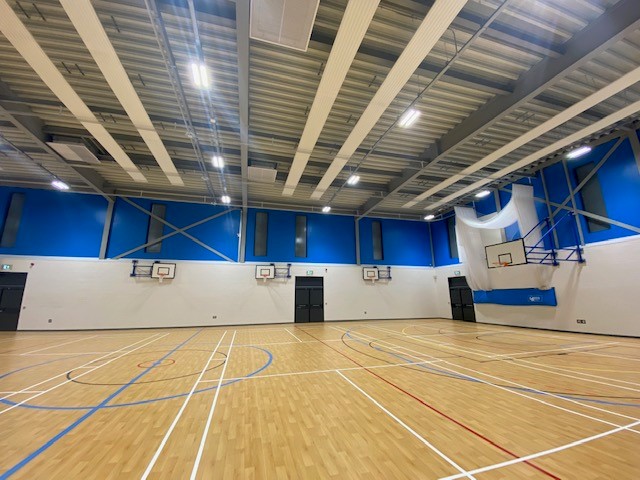 Sports Academy
Sports Academy
At Blessed Thomas Holford Catholic College we aim to promote sport to pupils, the local community and professional sporting teams through our Sports Academy.
Contact number - 07754 005157
Facilities
3G pitch – Our 3rd Generation pitch is a full sized, floodlight S1 field turf pitch. It can also be used as 3 5-a-side football pitches or for Rugby training

MUGA pitch – Our Multi-Use pitch is a floodlight, sand based, Astro-turf pitch. This can be used as 3 Netball Courts, 4 Tennis Courts, 7-a-side football pitch or for Rugby training

Changing Facilities – Our changing facilities are available with any booking

Grass pitch – One full sized adult Rugby pitch, subject to weather conditions
Throughout the year our pupils enjoy using the facility during P.E lessons and training for after school clubs enabling them to enjoy the benefits of sports on England standard pitches.
The local community have access to hire our pitches on weeknights and weekends, where we have private bookings, club bookings and a 5-aside league up and running.
Along with the local community we have also had professional teams Altrincham Football Club, Northwich Victoria and Stockport County use our pitches for their weekly training sessions.
Terms and Conditions
Terms and Conditions of Lettings
Health & Safety Responsibility
Conditions of Use for Sports Academy Facilities
Opening Hours
Our all-weather and indoor facilities are open:
| | |
| --- | --- |
| Monday – Friday | 6.00pm – 9.00pm |
| Saturday | 10.00am – 4.00pm |
| Sunday | 10.00am – 4.00pm |
Grass pitch availability are subject to weather conditions and natural light.
How do I make a booking?
For further information or to book out any of our facilities please contact Helen Bradbury using email: HelenBradbury@bthcc.org or call on 07754 005157.
How much does it cost?
Please find below a listing of our summer and winter prices for our 3G Football Pitch(es), Tennis Courts and Netball Courts.
Summer hire
Availability during the Summer:
Weekday Nights

Weekends – All Year
Whole 3G Pitch
Block Bookings (10+) Only (excluding VAT):
| | | | |
| --- | --- | --- | --- |
| Pitch | Public Liability Insurance | VAT | Total |
| £75.00 | Own | £0 | £75.00 |
| £75.00 | College £7.50 | £0 | £82.50 |
General Hiring's (including VAT):
| | | | |
| --- | --- | --- | --- |
| Pitch | Public Liability Insurance | VAT | Total |
| £75.00 | Own | £15.00 | £90.00 |
| £75.00 | College £7.50 | £16.50 | £99.00 |
One third of 3G Pitch / MUGA
Block Bookings (10+) only (excluding VAT)
| | | | |
| --- | --- | --- | --- |
| Pitch | Public Liability Insurance | VAT | Total |
| £32.00 | Own | £0 | £32.00 |
| £32.00 | College £3.20 | £0 | £35.20 |
General Hiring's (including VAT):
| | | | |
| --- | --- | --- | --- |
| Pitch | Public Liability Insurance | VAT | Total |
| £32.00 | Own | £6.40 | £38.40 |
| £32.00 | College £3.20 | £7.04 | £42.24 |
Netball Courts (3 in total)
Block Bookings (10+) Only (excluding VAT):
| | | | |
| --- | --- | --- | --- |
| Hire of 1 Court | Public Liability Insurance | VAT | Total |
| £22.00 | Own | £0 | £22.00 |
| £22.00 | College £2.20 | £0 | £24.20 |
General Hiring's (including VAT):
| | | | |
| --- | --- | --- | --- |
| Pitch | Public Liability Insurance | VAT | Total |
| £22.00 | Own | £4.40 | £26.40 |
| £22.00 | College £2.20 | £4.84 | £29.04 |
Tennis Courts (4 in total)
Block Bookings (10+) only (excluding VAT):
| | | | |
| --- | --- | --- | --- |
| Hire of 1 Court | Public Liability Insurance | VAT | Total |
| £10.00 | Own | £0 | £10.00 |
| £10.00 | College £1.00 | £0 | £11.00 |
General Hiring's (including VAT):
| | | | |
| --- | --- | --- | --- |
| Hire of 1 court | Public Liability Insurance | VAT | Total |
| £10.00 | Own | £2.00 | £12.00 |
| £10.00 | College £1.00 | £2.20 | £13.20 |
winter hire
Availability during the Winter:
Weekday Nights

Weekends – All Year
Whole 3G Pitch
Block Bookings (10+) Only (excluding VAT):
| | | | |
| --- | --- | --- | --- |
| Pitch | Public Liability Insurance | VAT | Total |
| £95.00 | Own | £0 | £95.00 |
| £95.00 | College £9.50 | £0 | £104.50 |
General Hiring's (including VAT):
| | | | |
| --- | --- | --- | --- |
| Pitch | Public Liability Insurance | VAT | Total |
| £95.00 | Own | £19.00 | £114.00 |
| £95.00 | College £9.00 | £20.90 | £125.40 |
One third of 3G Pitch / MUGA
Block Bookings (10+) only (excluding VAT)
| | | | |
| --- | --- | --- | --- |
| Pitch | Public Liability Insurance | VAT | Total |
| £43.00 | Own | £0 | £43.00 |
| £43.00 | College £4.30 | £0 | £47.30 |
General Hiring's (including VAT):
| | | | |
| --- | --- | --- | --- |
| Pitch | Public Liability Insurance | VAT | Total |
| £43.00 | Own | £8.60 | £51.60 |
| £43.00 | College £4.30 | £9.46 | £56.76 |
Netball Courts (3 in total)
Block Bookings (10+) Only (excluding VAT):
| | | | |
| --- | --- | --- | --- |
| Hire of 1 Court | Public Liability Insurance | VAT | Total |
| £32.00 | Own | £0 | £32.00 |
| £32.00 | College £3.20 | £0 | £35.20 |
General Hiring's (including VAT):
| | | | |
| --- | --- | --- | --- |
| Pitch | Public Liability Insurance | VAT | Total |
| £32.00 | Own | £6.40 | £38.40 |
| £32.00 | College £3.20 | £7.04 | £42.24 |

All data on Lettings stored in school is only shared in accordance with the school's Privacy Notice. The Privacy policy can be found on our Policies page which is situated on the main page.
Event Facilities
Download our Hire Booklet
For more information, quotes or to make a booking please email bookings@bthcc.org
NOTE- bookings cannot be made over the telephone