Headteacher Welcome
It gives me great pleasure to introduce myself as Headteacher of Blessed Thomas Holford Catholic College. I have had the honour of leading BTHCC since September 2023, and I am very proud of all that our students and staff achieve every day.
'Our new motto is 'may God's love be our guide'. God's love is kind, patient, and hopeful. It always protects and perseveres. However, love is not easy, and it take strength to open our hearts to all, as God's love is not guided by arrogance, resentment, envy, judgement, or selfishness. So, our daily prayer is may God's love be our guide in our college, in the classroom, in our decisions, on the playground, in our friendships, in our learning, in our curriculum, in our thoughts, in our conversations, in our welcome and in the person, we are yet to become.'
Blessed Thomas Holford Catholic College is one of the best performing schools in Trafford. Our most recent inspection by Shrewsbury Diocese rated us as an Outstanding Catholic school, and we celebrate high achieving GCSE and A-level results each year.
What makes Blessed Thomas Holford Catholic College stand out from other schools is our commitment to the young people in our care, encouraging and inspiring every child to fulfil their God given potential and to flourish. We place as much emphasis on the pastoral care and faith development of the child as we do on academic excellence.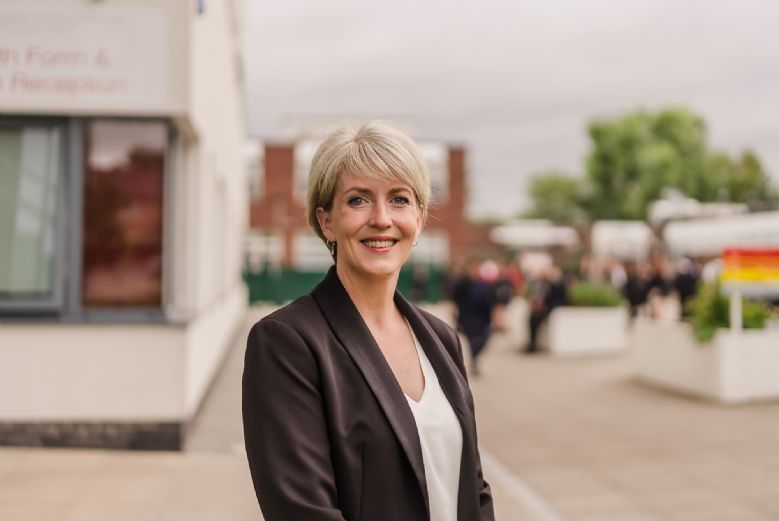 Mrs C. Hogg
Headteacher
The pastoral care at Blessed Thomas Holford ensures that our students grow into well-rounded, reflective, caring and thoughtful young people ready to take their place in society. We are a happy and vibrant school, and our academic tradition fosters a culture of enquiry and creativity. We value curiosity and thoughtfulness, and we are ambitious for our students to achieve success whatever their aspirations. The BTHCC curriculum at KS3,4 and 5 is vibrant, relevant and stimulating ensuring our students are equipped with the skills and wisdom in an ever changing world.
All our staff have true pastoral hearts and take time to ensure every child is known, their strengths supported and development needs overcome Our website can only convey a small insight into our wonderful school. I would encourage you to visit Blessed Thomas Holford Catholic College and find out more about our welcoming inclusive school; meet our inspiring staff and talented students.
I look forward to welcoming you personally.