Voluntary Contributions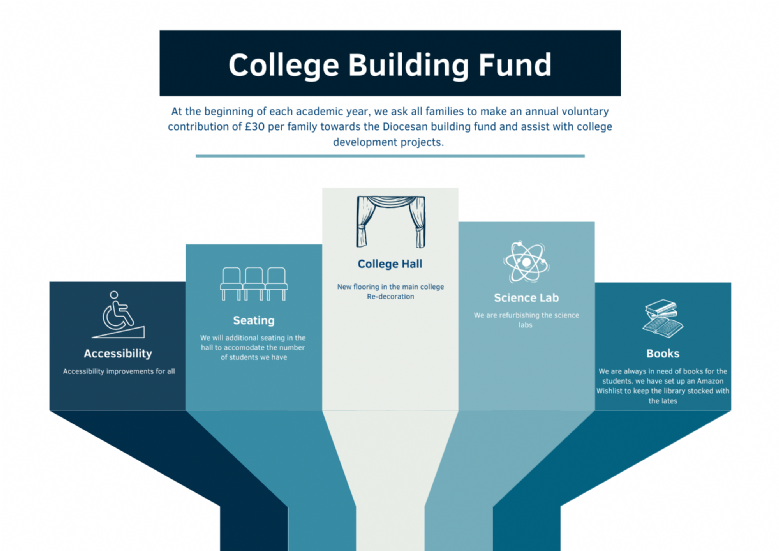 When parents decide to send their children to a Catholic college, they do so because they know that their child will be educated in a Catholic environment which focusses on excellence.
The quality of Catholic schools has been recognised by the Government, they have granted us 'voluntary aided' status. What this means is that although the schools are in the state system, we can retain our traditions and organise the school based on the teachings of the Church. But in return, we are required by law to raise 10% of the cost of developing and maintaining the school buildings. This has been the case for over 40 years.
As a voluntary aided school, if we need to improve the college, or undertake basic repairs or add additional facilities, we need to find a minimum of 10% of the cost ourselves.
If the money is not raised, the work cannot be undertaken. Because of this, our governors ask parents and carers for an annual donation of £30 towards the 'School Fund' at BTHCC, so that we can continue to provide the best possible teaching and learning environment for your children.
Ways to make your donation
One off Payment of £30 on Sco-Pay - www.scopay.com/login
Set up a standing order using the form attached and split the cost £2.50 per month
UK tax payers can take advantage of the funds charitable status and Gift Aid their contributions.
Please Gift Aid online contributions if eligible by ticking the Gift Aid box.
Families are being asked to donate £30 but are free to donate a larger amount if circumstances allow and anyone who is unable to make this level of donation is welcome to make a smaller contribution. The school realises, that this may prove a burden on some families, especially if they have a number of children in schools in the Diocese. In such cases, the school asks that a voluntary contribution according to your means be made.
May I take this opportunity to thank you in advance for your support and to those families who have already contributed to this fund.
Thank you in advance.
Mrs C. Hogg