Upcoming events
Our events for 2023/2024:
Christmas Market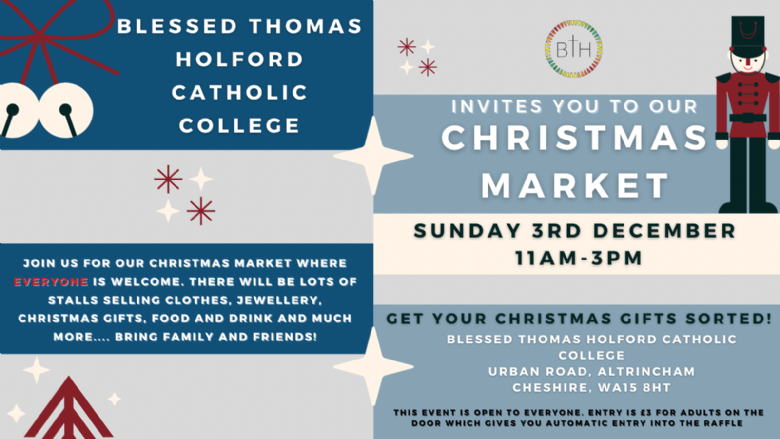 After the HUGE success of our first Christmas Market last year, we are happy to announce that we will be holding our second Christmas Market on Sunday the 3rd of December at 11am-3pm. This will be a perfect way to kick off the festive season.
We have several stalls available for hire on the day at a reduced rate of £15 to any parents who wish to run a 'Christmas Market' stall. Alternatively, if you know someone who would like to hire a stall please do get in touch with Laurahussain@bthcc.org to discuss further.
Entrance will be £3 per adult and that ticket entitles you to automatic entry into our raffle. There will be lots of exciting things going on during the day, such as activities for the family, our amazing choir singing some carols, gift stalls to get you organised with your Christmas shopping and much more.
This is an open event, and everyone is welcome, so bring family and friends to enjoy a wonderful festive day.
Careers Fair
We are our hosting our biggest Careers Fair to date on Friday the 2nd of February here at BTH in our sports hall for all pupils.
We are seeking a range of organisations to promote careers within their sectors and possible pathways to employment or further education.
Throughout the day, all pupils will have the opportunity to attend the Careers Fair and speak to employers, universities, colleges and apprenticeship providers about the courses and opportunities that are available to them after leaving school.
This is a fantastic opportunity for employers to seek out young talent and is a great chance to develop your company's reputation through public interaction and brand awareness.
If you are interested please get in touch with laurahussain@bthcc.org